Lviv opened a skating rink
4237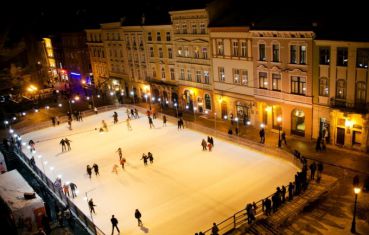 In the center of Lviv, at Market Square, and all winter until mid-March will run ice rink. It is the original form - 20 to 40 meters, with hockey sides, with a nice shiny ice prepared a special machine.
Interestingly, the rink this place existed in the early 20th century. And today the annual opening of the rink on the square for everyone in Lviv again become a good tradition. And this ice arena is always very popular among citizens and visitors alike. Even sometimes a queue lining up. Contains rink - 150 people, but want to ride much more often. The special charm of skating takes long winter evenings, when skating rink and surrounding buildings are illuminated.
There are discounts for children under 12 years, children from poor families, for people who come with their skates. It is possible to rent skates. On the ice stadium provided services of professional coaches is a school of figure skating. You can learn the basics of skating, but you can konkobizhnu improve their technique. Changing rooms, halls, technical premises made in the form of icebergs. The pavilion can eat and drink warm drinks. Rink is open daily, from 10:00 to 22:00. Also in the square are prepared and the traditional Christmas Fair, which will run from 12 December to 17 January.
Still closed in Lviv operates year-round skating rink in the mall "King Cross Leopolis" on the street. Stryiska, 30 and winter outdoor skating rink "Medic" on the street. Gorbachevskogo 24.
You may also be interested in:
If you liked the news, tell your friends :)