It is known as bud Narcissus Valley
2183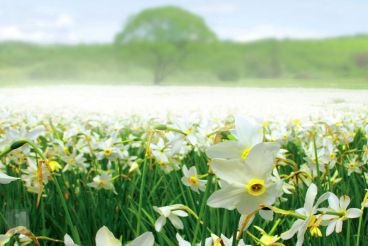 Valley of daffodils in the natural Kireshi preparing to host tourists. Almost two weeks here daffodils bloom. Experts have calculated even the exact date - 1 May. While all of course depends on the weather.
Today in Transcarpathia - quite warm during the day - more than 20 degrees above zero. If the temperature will hold at roughly the same level, the narrow-daffodils delight tourists just in the May holidays. Although usually flowers bloom from 9 to 15 May.
Interestingly, local daffodils unique because stuck at an altitude of only 180 meters above sea level. Although they usually grow in the highlands at an altitude of 1,000 to 2,000 meters. So our Ukrainian Narcissus valley in the world only at such low altitude.
Remember that narcissus listed as endangered, so pluck flowers forbidden!
After seeing and capturing a photo of daffodils unique angustifolia, tourists can learn more about these flowers of narcissus museum workers.
The entrance to the Valley of daffodils charge. Adults - 20 students - 15 children - 10 UAH.
If you have traveled to Transcarpathia, it is worth remembering that now massively flowering cherry . Most of them in Mukachevo and Uzhgorod. Also in the Transcarpathian cities already pleased blossoming magnolias , lilacs and chestnuts.
Also, you may be wondering:
If you liked the news, tell your friends :)