New discovery: more than 5600 years ago on the territory of Kamenetz existed Tripoli foundry
2136
In June 2016 State enterprise "Research Center" archaeological Security Service of Ukraine "" Institute of Archaeology NAS of Ukraine was organized Kamenetz-Podolsk architectural and archaeological expedition. That it made a unique discovery in Kamenetz-Podolsk (Khmelnytsky region) in July 2016.
Foundry (Age - 3800-3600 BC. E.) Discovered in the center of Kamenetz, in v. BC. The Polish market . Opening owned by outstanding Ukrainian scientist, archaeologist and trypillyeznavtsyu Dmitry Konstantinovich Chernovola, head of excavations. In his statement, the first time in Ukraine found metalworking workshop Tripoli culture. In the excavation at the site was found three fragments crucible and six pieces of copper plates. Also found copper slag and bones with traces of copper.
As the counterpart Dmitry Chernovola, found in Eneolithic copper layer is huge uncommon for scientists. Many archaeologists-trypillyeznavtsiv vainly looking for it for decades. So Kamenets architectural and archaeological expeditions extremely lucky. However, finding Kamenetskoy copper age 5800 years at the site housing Tripoli culture on the Polish market - the result of hard and dedicated work of many people.
The same expedition made many discoveries in the territory of the ancient Kamenetz. Among the most prominent - storey fortification tower (17th c.) And "Street potters" (15 in.). Kamenets now competes for membership in the UNESCO list - and past findings, as hope those who are a fan of, are pretty help in that case.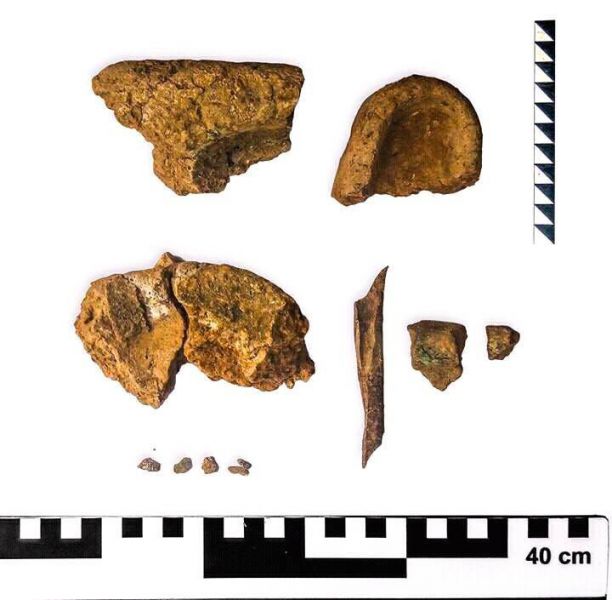 Photo Source: facebook-page Kamenets State Historical Museum-Reserve and KP Architectural-Archaeological Expedition.
You may also be interested in:
If you liked the news, tell your friends :)