Shkotskaya Kamenica, Lviv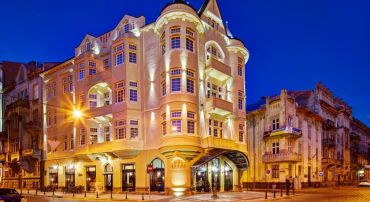 Shkotskaya Kamenica built in the Gothic style modernized. In the early 19th century, the house was located in one of the most famous cafes in Lviv - Scottish Café.
There were going to mathematics: problems and equations written on napkins, prints left on the table that annoying waiters. Who has not solved the problem, he had to treat a friend. At the very least, to have survived such entertainment legends about great minds. In order not to spoil the napkins, the wife of Stefan Banach started a special notebook for mathematicians, now known as "Shkotskaya book." It was inherited by his son Banach and now kept in Poland .
Mathematicians talked fruitful: in the coffee shop, and a school was born of mathematical analysis and Banach Zaritsky, also known as "Shkotskaya theory".
Now the building is Kamenica hotel "Atlas Deluxe."