Lesya Ukrainka Museum-Estate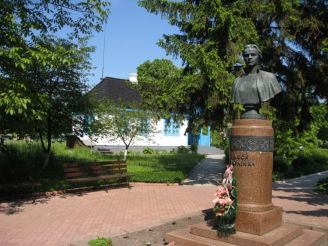 For lovers of art by the famous Ukrainian writer Lesya Ukrainka Museum opens its doors Estate Kosach family. The museum has recently been completely renovated and now meets the highest European standards.
In Kolodiazhne poet family moved in 1882. Homesteads immediately became the favorite, truly a home, a place for the whole family. In this house, Lesya Ukrainka spent the best years of his life - a carefree childhood and adolescence. It was here that she wrote her first works. And the beauty of these places forever be displayed in the works of the poet. And now in this house is one of the most amazing museums.
The museum consists of several rooms. The first room introduces us to the family of the writer. On the walls of the hall are located photos from the family archives of the family Kosach. It should be noted that the parents of Lesya Ukrainka were also very well-known and talented people. In another hall, the personal belongings of the poet: clothing, notes, collections of poetry. There is also a family home inventory exposure Kosach. All this helps to get to know the writer and her work.
Manor house is surrounded by a beautiful park with a pond. Walk here, especially in the spring, brings a romantic mood. It was walking around this garden inspired Lesya Ukrainka to create many wonderful works.
It is worth noting the high professionalism of the museum. Here, you do not spend another boring tour with dry dates and facts. All employees of the museum in love with this place and creativity of talented writer. They will hold you for a memorable tour, talk a lot and will do everything possible so that you ever fell in love with this place. The museum is open from 9:00 to 17:00, - Monday, Tuesday.
Tours and excursions
Львів – Берестечко-Пляшева – Дубно – Тараканів – Клеванів – Луцьк – Володимир-Волинський – Львів
Пориньте у незабутню подорож до Волині. Ви зможете побачити красу та велич Луцька, насолодитися екскурсіями по історичним місцям та привезти з собою незабутні спогади, веселий настрій, гарне самопочуття й багато фото. На вас чекають:  панорами Луцька; собори, монастирі; замки, Тараканівський форт, «Козацькі могили»; Музей бурштину; Тунель кохання, будинок Лесі Українки; реконструкція укріплень літописної Пересопниці; смачна їжа та приємна компанія; прогулянки у вільний час. План туру: