Basket weaving center, Iza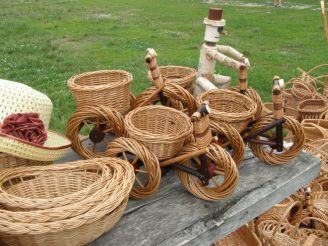 Transcarpathia is famous for its artisans. Many tourists from around the world every year come to these parts to get through life, culture and arts and crafts to get acquainted with Ukraine. The talent of local artists the whole world admires.
One of these places was the village of Iza, which is already in the 19th century was the center of basket weaving. The first master craftsman for basket weaving was Ivan Kashko. He taught his sons the case, which began to sell all kinds of products from the vine. Over time, this activity was the main activity for all residents of the village.
Until now, basket weaving center famous for its talented work. It all starts in the summer. First, the vine harvest, process and paint. Towards autumn proceed directly to the manufacture of fancy gizmos. Here are able to weave wicker everything: baskets of different shapes and sizes, chairs, cabinets, chairs, tables, plates, coasters and much more.
To purchase any product from the vine, not necessarily call in a special place. Many artisans exhibit their wares along the road that leads to the lake Sinevir . Here you can watch souvenir of the Carpathians yourself or your friends. Masterpiece handmade wicker will not leave anyone indifferent.
Tours and excursions
Львів - Пилипиць - Келечин - Синевир - Колочава - Мукачево - Берегово - Ужгород - Косино - Нижнє Селище - Іза - Ділове - Верховина - Коломия - Буковель - Яремче - Гошів - Бубнище - Львів
Львів – Пилипець – Шипіт – Синевир – Іза – Четфалва – Берегово – Ужгород – Мукачево – Львів