Square Klyueva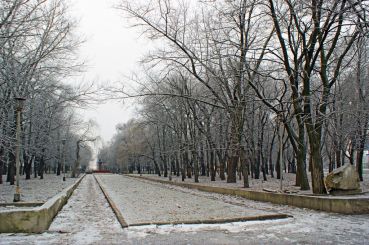 Square named after Vladimir Klyuev - small landscaped green area, located on the street near the Kyiv City Children`s Hospital № 6. Square is composed of quiet streets, neat forests planted during the mid-20th century, and the memorial bust of Soviet leaders Klyuyev. It is nice to walk around in any weather, frequent visitors to the park - the family company and mothers with prams.
The monument to Vladimir Klyuev
In the central part of the triangular square is a monument to the Minister of Light Industry of the USSR VG Klyuyev. The sculpture is made ​​in the spirit of his time. Black bronze bust reveals the solid nature of the minister and his stern features. He himself had never been in Dnipropetrovsk , worked and died in Moscow. He was famous for the high professionalism in the field of weaving and light industry. The sculpture is preserved in excellent condition, despite the lack of restorations since the installation of the monument. To look at him, you can go through one of the four avenues of the park that cross the entire area of ​​the park are separated.
What is interesting, you can visit
City Dnepropetrovsk can be called one of the busiest parks cities. Its active construction fell on the era of the Soviet period, when all the industrial cities carefully cared about the health of the population. Especially paid attention to those who live next to the plant and emissions of metallurgical production. Thus, residents of Dnipropetrovsk compensate for the lack of fresh air large park areas, where each tree bears its function. For example, annoying fluff poplar is able to capture molecules of heavy metals and lower them to the ground from the air, clearing the lungs so the townspeople. Each of the parks will tell their story about the development of the city and its heroes.