Lake Buchak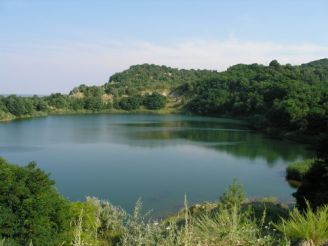 Buchak - an unusual lake having technogenic origin and formed during the construction of the Kaniv PSP. During the creation of the reservoir cup, Buchakovo village were resettled. Then the landscape altered beyond recognition, being razed to the ground with powerful bulldozers. During the work, the area of ​​the future of the lake has undergone significant changes that have affected even the monument - Mount Coot. After work on clearing, it was revealed an interesting detail: Coots came to light in the vicinity of the set period of archaeological finds of ancient Russia.
Buchak lake was formed in 1974 and was named in honor of the former village, located in the immediate vicinity. Locals say that the depth of the reservoir is 30 meters, and its bottom paved with concrete slabs. The water level in the lake higher than in Kanev Reservoir, thanks to recharge his cold springs. The lake is located in an area that capture the imagination with its beauty. He appreciated the directors of many films made ​​here, as well as dozens of coming here from all CIS countries aspiring artists to capture the beauty of this unique place, partly created by human labor.
Now the village Buchak there are only a few houses in which they live predominantly gardeners and fishermen in the summer season, which is very different from the past of this historic site. If you are planning to go on nature - be sure to visit this beautiful place, full of the spirit of history, legends and tales.
Tours and excursions
Обеспечить себе роскошный активный отдых, не выезжая далеко из Киева? Легко! Вас ждет древняя столица украинского казачества – овеянный легендами Трахтемиров. Этот маршрут как будто создан для велопутешествия: поездка по заповедным местам на машине или автобусе не доставила бы такого удовольствия, или даже просто была бы невозможна. Тур вновь откроет вам Киевщину и Черкащину, исторические загадки и природные красоты этого края. Трахтемиров помнит военные подвиги Северина Наливайко и Петра Конашевича, непростую судьбу Богдана Хмельницкого и знаменитую "Чорну раду". Сейчас тут заповедная зона, которую, впрочем, до сих пор можно считать территорией открытий и казацких тайн. Росава и панорама Днепра, озеро Бучак и Каневское море, Ржищев и Триполье также входят в программу велотура, создавая вместе маленькое захватывающее приключение в великую украинскую историю.