News Dolyns'kyi district
This was announced March 14. There are several versions of collapse. Will somehow warn tourists about possible dangers?
Recently, on December 11-12, there was a meeting of the Carpathian narrow-affiliate. The event occurred in the village benefit that Dolyna district in the Carpathian region. The meeting was attended not only by representatives of small Ukrainian railways, but also similar organizations from Poland, Romania...
Events Dolyns'kyi district
Tours and excursions Dolyns'kyi district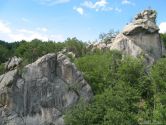 Тур вихідного дня дає можливість відійти від міської метушні та поринути у мандри Карпатами. Ви маєте можливітсь покататись Карпатським трамвайчиком, споглядаючи красу гірської місцевості, відчути себе на вершині , піднімаючись скелями Довбуша, піднятись на гору до однієї із святинь Карпат - Гошівського монастиря, та споглядати мальовничі краєвиди природи. Про цю подорож важко забути, адже ви отримаєте море незабутніх вражень.