Museum of Ukrainian Paintings, Dnipro
Opening the Dnipropetrovsk Museum of Ukrainian painting took place in October 2013. Its collection consists of more than 500 paintings and graphic works. By painting represented in the museum, one can trace the development of the Dnepropetrovsk art school and become familiar with the works of many famous artists and Dnipropetrovsk Ukraine. Here are stored handwritten albums, books, letters, photographs and other memorabilia of famous artists Dnepropetrovsk. Among the most valuable paintings - works of Joseph Belopole, Communards Berkut, Alexander Wojciechowski and many other masters. Near the museum is the Holy Trinity Cathedral .
Museum of Ukrainian painting can be visited every day except Monday and Tuesday, from 11 to 19 hours. Admission is free.
News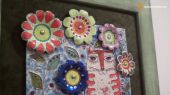 Ukraine`s first art museum opened in Dnipropetrovsk enamel. The exhibition, which occupies two floors, features more than 200 works by artists of enamel Ukraine, Czech Republic, France, Japan and China. It works 19-20 centuries and contemporary works: paintings, compositions, decorative tableware, vases.