Emil Racovita Cave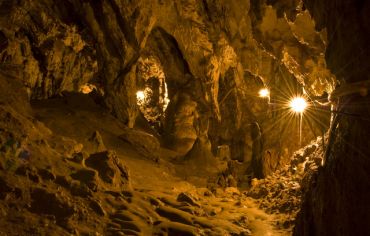 Not been fully investigated mysterious cave "Cinderella" is partly in Bukovina, in part - in Moldova . Log in with the Ukrainian side - near the village Podvirnoe.
The cave opened in 1977, its length is more than 90 moves km. Many sites are flooded with water. Among gypsum caves "Cinderella" takes 3rd place in the area and the 8th - among the largest caves in the world.
Initially, the cavers did not dare to explore the cave, as the entrance into it was very dirty. That`s why they called her "Cinderella." But now the left part of the waters, the researchers found underground lakes, mazes and beautiful cave rooms in the thickness of the gypsum. Interestingly, the halls and galleries covered by a layer of clay - there are shades of red, white, black, green, blue. On some routes now installed unusual shapes of clay. There is also a statue of the most Cinderella.
This cave has thrown a puzzle to geologists. In local mineral deposits found birnessit. Usually it is found at the bottom of the deep ocean basins.