Nicholas Church, Kupiansk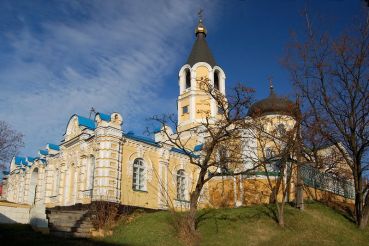 Church of St. Nicholas is one of the main attractions of the city Kupyansk . It was founded   in 1852 on the site where, in 1705, have wooden Nicholas Church. Construction was carried out with the active financial support Aparshnogo landowner who donated 20 thousand. Rubles, and church members.
Church building lit up in 1852, it has become one of the main decorations of the city. Then the church got its name in honor of St. Nicholas. In its original form the temple stood for more than 80 years,   in 1932 were partially destroyed the dome and bell tower. There is evidence that during the Soviet era in the central part of the cathedral traded meat.
In 1950 Nicholas Church was again operating, then began to conduct worship services and sermons. At the request of parishioners began the reconstruction of the temple in order to return to it original appearance. Repeated   opening took place in 1991. It is believed that the architecture of the church of St. Nicholas in Kupyansk has similarities with the Annunciation Cathedral in Kharkov.
Nowadays door Nicholas Church open to parishioners and visitors. The temple was the center of spiritual life of the city.