Zakhar Berkut ski resort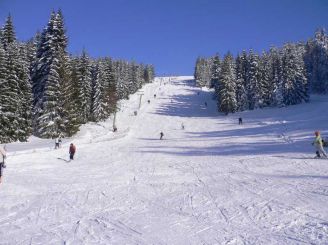 Ski resort "Zakhar Berkut" is located in a small mountain village in Volosyanka 8 kilometers from the popular ski resort Slavske at the foot Zvorets, which is part of the mountain range High Top. Complex "Zakhar Berkut" is constantly being improved, so Volosyanka more confident wins fame as one of the most popular and modern ski resorts.
Resort "Zakhar Berkut" provides:
- The cable car up the mountain High Top, which has long been considered one of the most famous excursion sites in the region;
- Try extremely tasty meat cooked on the grill, branded "the mountain of potato pancakes," mushroom yushku in boykovski and other Carpathian delicious on top of the mountain High Top in the same cafe;
- Mountain biking;
- At the end of an active day, relax in the sauna with a swimming pool and Jacuzzi;
- Spend the night in cozy rooms "Zakhar Berkut".
Ski resort has 9 runs of different difficulty levels with a vertical drop of 552 meters. Ski Area is divided into the ski fields, located on the northern, north-western and south-western slopes of the 1,223-meter mountain Zvorets, north-eastern slope of the mountain 1224 meters high top. Small ski fields are in the lower part of the basin.
Trails open from 09:00 to 16:30 on weekdays. The ski resort has the following platforms:
- 2 chair at 2800 meters, it replanting station is at 1,075 meters;
- Rope №1 700 meters;
- Rope №2 for 750 meters;
- Rope №3 800 meters, its lower station located at station level replanting chairlift at an altitude of 1075 meters;
- Mul`tilift 250 meters.
To the ski resort "Zakhar Berkut" can be reached by train, reaching the station "Slavskoe", then take a taxi or shuttle service.
Tours and excursions
Львів – Тустань – Коростів – Волосянка ("Захар Беркут") – Львів