Pryvokzal'na Square and Railway Station in Kharkiv
For one century Pryvokzal'na Square in Kharkiv is considered to be one of its main attractions. It is a great place to have a walk and rest, as it is beautified by fine flower beds, nice paths, comfortable benches, and an amazing musical fountain with illuminations.
At night time the square is well lit and buildings of the railway station, the General Post Office and the Railroad Department are colourfully illuminated.
In the 1860s, Kursk-Kharkiv-Azov Railroad was placed in operation and the square construction was finally completed. Today, musicians from the local philharmonic, as well as from the opera and ballet theatre greet residents and city guests on Pryvokzal'na Square. Their repertoire consists of seven different tunes corresponding to seven days of the week.
For the present day, the Kharkiv Railway Station building occupies most western part of the square. This building was engineered by famous architects Borys Mezentsev, Yevgeniy Lymar and Grygoriy Voloshyn and built on the place of an old railway station, which was destroyed during the Second World War.
This elegant, formal, decorated with natural stones, architectural mouldings and Ukrainian ornaments Kharkiv Railway Station has been welcoming its passengers since 1952.
The Kharkiv Railway Station building is 26 metres high and its entrance is decorated with a 10-columned portico. In order to offer a comfortable stay for visitors of Kharkiv, in the 1980s a hotel was built next to the railway station.
The south and north tunnels can lead Kharkiv passengers to the subway or Pryvokzal'na Square. The Advance Booking Office, the Service Centre and the International Transportation Office are located in the south wing of the building. The main hall of the railway station is equipped with modern touch screen informants. Media files and commercials are methodically shown on the big colour display, placed in the very centre of the hall.
The comfortable waiting room, located on the first floor, offers comfortable and modern seats for passengers. Nearby several cafes are located.
In the centre of Pryvokzal'na Square you can see a monumental building in the Neo-Classical style, which houses the Southern Railway Department. This building was considered to be the largest in pre-revolutionary Kharkiv, however and today it amazes with its scope.
The General Post Office building, built under the project of architect Alexander Mordvynov in the late 1920s, can be noted by you in the northern part of Pryvokzal'na Square. Massive concrete structures, flat roofs and window openings make this composition functional and dynamic. 
Tours and excursions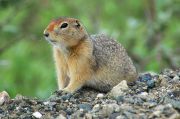 Відправтесь у невелику подорож до одних з найгарніших степів України, де проживають маленькі дикі тваринки серед крейдяних ландшафтів Харківщини. Поверніться у минуле та дізнайтеся, що саме було на цих територіях мільйони років тому. На вас чекають: мальовничі природні пейзажі; рідкісна флора і фауна, яка занесена до Червоної книги України; крейдяні гори і синя річка Оскіл; екскурсії по національних природних парках.