Vorontsov Palace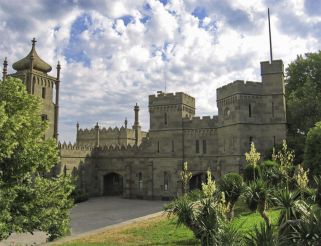 Vorontsov Palace is one of the seven most beautiful structures of Ukraine, which is located in the middle of the picturesque area at the foot of Ai-Petri Mount in the city of Alupka. The palace was built as a Crimean residence of Count Mykhailo Vorontsov, a general governor of Novorossiysk Territory. The palace has become the decoration of the entire Crimean peninsula, and now it is one of the architectural wonders of Ukraine.
The first buildings, which started the construction of the palace in 1828, appeared long before the desire of Count Vorontsov to lay a luxurious residence in Alupka. Their authors were architects Franz Boffo and Thomas Harrison. Instead, Vorontsov Palace was engineered by architect Edward Blore, well known as a "father" of Westminster Abbey and Buckingham Palace facade. By the way, Blore has never been to the Crimea and designed Vorontsov Residence on the basis of mere knowledge of the terrain relief.
Vorontsov Residence is designed in the style of Neo-Gothic with its mysticism and mystery in every square meter of the building. The palace was erected of not so simple, but very strong material – greenish-gray diabase from natural placers in Alupka. All works on processing and cutting of wall blocks have been handmade by hundreds of serfs. Perhaps this is why the palace still retains its strength and beauty, attracting visitors from around the world.
In general, the palace has 150 rooms, each with its unique interior and history. And from the windows you will notice a huge arboretum covering about 40 hectares of beautiful alleys, delicate waterfalls, lakes and exotic trees. Strong greenish palace walls perfectly harmonize with the surrounding nature. Fortunately, neither earthquake in 1927 or the October Revolution or WWII has not caused Vorontsov Palace serious damage. So far, unique collections of porcelain, books, as well as stunning works of art are kept in this building. Here you can see works of the Imperial Porcelain Factory in Saint Petersburg, works of decorative brass and ancient clocks of French master Pierre Philippe Thomire, whose works adorn collections of the Tuileries Palace in Paris, the Winter Palace in Saint Petersburg, the Palace of Fontainebleau, Demidov Palace in Florence. The only in Ukraine and Russia straw wallpaper with colourful embroidery threads in the style of Classicism have been preserved in the palace. There you can see a rare for Russia of those times painting collection of English masters, such as Peter Sneyers, Netscher Caspar, Carlo Maratti, William Hogarth, and George Doe.
Vorontsov Palace gained a new title in Ukraine. According to the all-Ukrainian action "7 wonders of Ukraine: castles, fortresses, palaces", the former residence of the count is one of the most amazing structures in Ukraine.
It is easy to get to Vorontsov Palace. The palace is located on 10, Dvortsove Highway, Alupka. From Simferopol or Yalta you can get there by bus, following the signs, till the signboard "Palace Museum".