Volyn Regional Museum of Ukrainian Troops and Military Equipment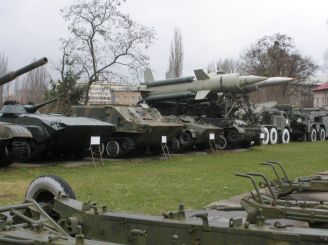 Volyn Ukrainian Museum of troops and military equipment is considered one of the best military museums in Ukraine. Museum project developed social organization "Dzherela" by order of the Ministry of Defense of Ukraine. The museum was opened to the public in 2000.
The museum consists of two main sections: the historical and chronological exposition and exhibition of modern military equipment and weapons. It is situated in the open air. The museum exhibits various arms, small arms, equipment and hardware communication troops, artillery and anti-aircraft Missiles, aircraft and armored vehicles. From the mesmerizing power of the spirit of combat vehicles. In the cockpit, which once guarded our borders from the air, you can sit and feel like a pilot.
For a better experience Army life and military burdens, the museum exhibited a variety of materials of military history, flags, banners, army clothes, old military photos and soldiers` letters.
In the museum there are many more interesting and informative, which can not be described in words. Better come and see for himself.