Church-Ethnographic Complex Ukrainian village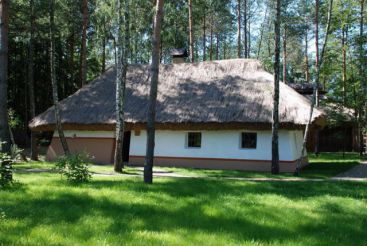 Just 15 kilometers from Kiev to Zhitomir highway located Church ethnographic complex "Ukrainian Village". He takes quite extensive and, at the same time, a very compact area, which is decorated in the best traditions of Ukrainian culture of the 19th century.
Ethno-Park is conveniently divided into thematic areas. Familiarity with the complex begins with the church area, where there is a current Church of St. Demetrius . Since it began the construction of open-air museum. There is also and parafialnaya school, and the grotto of Our Lady of "life-giving source" with carved icons and mosaics, smalt.
The second zone "Ukrainian village" introduces visitors to the shelter six historical and cultural regions of Ukraine: Hem, Central Naddnepryanschiny, Slobozhanshchina, Polesie, the Carpathians and the South. You can not just consider the old hut inside and out. Peering into the room, you can understand the spirit and life of the time. There is also a unique collection of tools for field work. But they can take part in master classes for the soul: learn blacksmithing, some craft or needlework.
To get to church and ethnographic complex is not difficult. If you do not have a car, it`s best to "Ukrainian Village" will be reached by bus from the Kiev metro station "Svyatoshyn."
Tours and excursions
Отпразднуйте старинный праздник Масленицы вместе с удивительным этнографическим музеем «Украинское село». Вы увидите настоящую украинскую культуру. Вас ожидает:экскурсия по 6-ти украинским хаткам, каждая из которых представляет один из шести культурных регионов Украины;посещение воссозданных мастерских разных ремесел украинского народа;посещение небольшого домашнего зоопарка;посещение сувенирного магазина с изделиями от лучших мастеров.
История украинцев хранит в себе много интересных и удивительных вещей, о которых даже сейчас не все знают. Этот однодневный тур позволит каждому окунуться в атмосферу украинского великодушия, прочувствовать и увидеть украинский быт.