Ski resort of Playa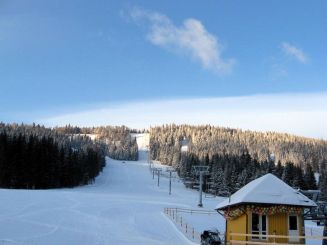 Ski resort "Plai" is located in the heart of the Carpathian Mountains. The beauty of this area and excellent complex allow to rest here all year round. But most of all guests in "Plae" in winter, when you can go skiing and snowboarding. There are also places to visit - the resort you can visit the Museum of Culture and go to the church of St. Michael the Archangel.
Guests ski resort can come to rest without equipment, everything you need is available in the rental "Playa". Those who are just mastering the art of skiing, can enroll in the ski school.
Spend time with health benefits can be in the spa, sauna, swimming pool and gyms. For kids playground, snow tubing, baby-lift and sledging. You can stay at a local hotel, and if you have any health problems - to use the services of qualified personnel infirmary. The resort provides free parking.
On the slopes of the complex has 6 lines intended for skiing and snowboarding. The longest of them - 1.2 kilometers. The difference in height does not exceed 260 meters. There are 350-meter training track and 350-meter children`s track.
Climb the slopes can be in two 4-chair lift Doppelmayr, length and 1 kilometer. The route for beginners is equipped with rope tow.
To the ski resort "Plai" a bus from the main bus station in Lviv . If you get a car to drive on the highway Kyiv - Chop towards Stry, and then through Skole. Outside the city Skole drive through the village Korostiv, Kozeva and Oryava. The resort is located near the road outside the village before the village Oryava afloat.
Tours and excursions
Подарите себе Новый год, который запомнится надолго. Езжайте из Одессы во Львов. В средневековой атмосфере давнего города праздник будет по-домашнему уютным, веселье – безудержным, а все самые сокровенные желания обязательно сбудутся.