Lychakivskiy Park
Lychakivskiy park in Lviv - a large area, amidst lush greenery which is pleasant to walk in the warm season. Strolling along the neat alleys and flowery streets, visitors and residents can enjoy the violent colors of flowers and the scent of the plants from early spring to late autumn.
All this splendor was created in the 1880s, when the city experienced the maximum economic growth, and in 1984 the park was officially recognized monument of landscape art.
Creator Lychakiv Park
In order to beautify the urban neighborhood, in the late 19th century, moved to Lviv talented architect named Arnold Rering. Local authorities maintained all his undertakings.
The region is allocated for the park, it was a deep ditches, sand mounds, clay pits, so they had to devote considerable resources to turn this area into a work of art.
But Reringu was available all at the same time it creates another outstanding Lviv Park - Stryj , a very important subject for the city (the park was connected to the railway line on which delivered the exhibits for seasonal exhibitions in the park).
In Historic Place
Today Lychakivskiy Park - the heart of the city. It is surrounded by dozens of historic sites, monuments, architectural constructions. The nearest of them - a memorial to those who died in World War I - Hill of Glory . We create it in the early 20th century, when it was still countryside.
Here is the oldest cemetery in Ukraine, founded in 1900, - "Lychakiv." It is a complex of several memorials to soldiers who died in various wars, rebels in 1863, as well as other defenders of Lviv and its outstanding natives.
Tours and excursions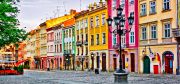 Дети до 12 лет на основном месте - скидка 200 грн.
Уик-энд во Львове начнется с ароматной чашечки кофе и невероятно красивого вида на город. Чтобы полностью окунуться в особенную атмосферу этого города-музея, совершите неспешную экскурсию по узким, средневековым улочкам, где вам на пути встретится: Главная святыня греко-католиков Украины – архикафедральный собор Святого Юра. Большой Иезуитский костел с подземельями – культовое сооружение, выполненное в стиле раннего барокко. Старинная часть Львова встретит вас городскими фортификациями 14–15 ст., внесенными в список всемирного наследия ЮНЕСКО, включая ансамбль Успенской церкви – ранний центр православной общины, храм ордена доминиканцев. Также вы сможете посетить знаменитую Рыночною площадь с её достопримечательностями, ароматным кофе и незабываемой архитектурой. И, конечно же, львовские кофейни – нигде больше вы не отведаете такой вкусный и ароматный кофе!