Village Kryvorivnya often called the cultural capital of the Hutsul region. It is located in Verkhovyna district of Ivano-Frankivsk region. This is one of the most famous villages of the Carpathians. It liked to rest Franko and Sergei Parajanov was shooting the film "Shadows of Forgotten Ancestors".
In March 2015 we site was very interesting collection of "Unknown Ukraine: 19 unique villages" . Perhaps we hurried, as Kryvorivnya should be included in this list. And here`s why.
How famous Kryvorivnya
According to written sources, Kryvorivnya was founded in 1654. This is one of the oldest villages Hutsul, it is home to about 1,400 people. But fame village brought several other circumstances.
The first reason. First of all, it folklorist Vladimir Hnatiuk, which showed the beauty of the land to Ivan Franko. Once visiting Kryvorivnya, Franco enjoyed it so much here that the next 12 years his summer vacation poet often spent with Krivorivnya. Today Krivorivnya can visit Museum Ivan Franko.
Vladimir Hnatiuk, through its educational activities, turned Kryvorivnya the "summer capital of Ukrainian culture." It came to rest artists, poets, writers, musicians, historians. Here you can see Lesia Ukrainian, Vasyl Stefanik, Olga Kobylianska Dragomanov and many other artists. Kryvorivnya then called "Ukrainian Athens."
From 1906 to 1914 he lived in Krivorivnya historian and politician Hrushevsky. Unfortunately, his mansion burned down. Today, along with the place is reproduced Hrushevskoho house, and in it - a museum historian.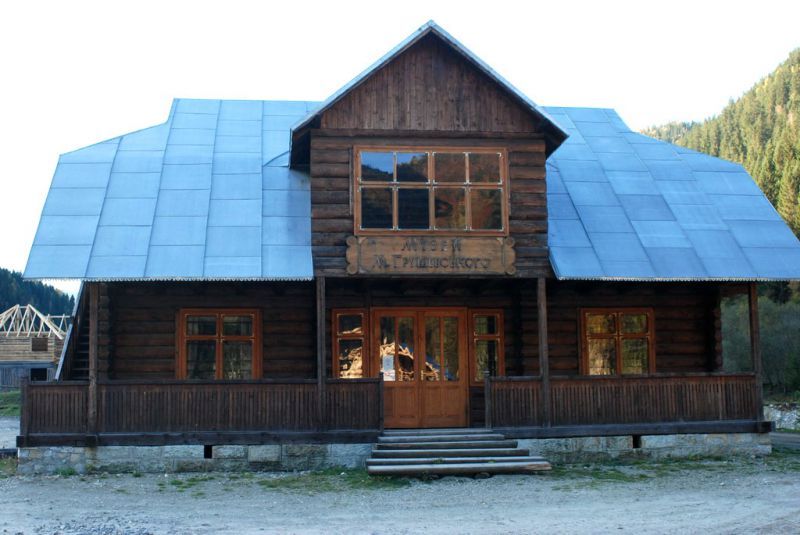 The second reason. Life and customs Hutsul, including those living in Krivorivnya, pushed Michael Kotsyubinskogo to write the story "Shadows of Forgotten Ancestors". It was in 1911, and in 1964 Sergei Parajanov made a film based on this work. Part of the filming took place in Krivorivnya. Home where the shooting took place, now a museum. This film Kryvorivnya saw the world.
Reason Three. Kryvorivnya considered not only the "summer capital of Ukrainian culture," but the magical capital of Hutsul . Since time immemorial, here and in nearby villages lived, and some argue that still reside Molfars. These are people dealing with quackery, healing and predict the future. The most famous among the masses molfar was Michael Nechay. About him shot several documentary films, written several books.
Molfar hard to find - it is better to ask the locals where they live. They are often secluded lifestyle. Their homes are located high in the mountains.
It`s not all causes, famous Kryvorivnya. That only is the surrounding nature. It does not want to return. Cultural and historical events Krivorivnya contributed to the development of tourism. So, today in the village there are 14 museums, which certainly allows Krivorivnya fight for the right to wear the statute village museum.
Origin of the name Kryvorivnya
Kryvorivnya located in a bend of the river Black Cheremosh. Line the shores of the river at this point is zigzag nature, while a piece of land stretches along the coast, very smooth. This pun and out "curve" and "equal" - Kryvorivnya.
The most interesting museums Krivorivnya:
Museum "Hutsul Citizenship" - a true family home fortress Haruka.
In fact, Kryvorivnya - it really is an open air museum. Here almost every house - a monument to its history.You are sure to find something interesting for yourself. Near the village there is a unique place - Painted stone.
Be sure to visit the Church of Nativity, built in 1719. It is a masterpiece of Hutsul architecture.
How to get to Krivorivnya
The village is Kryvorivnya in Ivano-Frankivsk region, 7 km east of Verhoviny, the district center. The village was located in a valley at the foot of the ridge and Varytyn Ihrets. Here is the road Tatar - Coloma. 40 kilometers from the village railway station is Vorohta, 30 kilometers - Vyzhnytsia.
From Ivano-Frankivsk to Krivorivnya can be reached by bus, which goes through CBS.
The roads are bad, sometimes they do not. Better to go through Yaremche - the road is slightly better. You can negotiate with local residents about renting a cart or other vehicle.
Accommodation in Krivorivnya
As these hotels in Krivorivnya not, but you can stop the locals. They often rent rooms or entire homes - a sort of mini-hotels. You can also arrange food or prepare themselves in the kitchen or grill. Prices are reasonable, moreover, local always advise where to go and what to see in these parts.
Large selection of hand-made souvenirs on the market in Kosovo.
Tours and excursions Kryvorivnia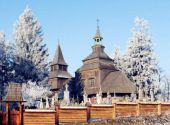 Відпочинок в Карпатах, Драгобрат, музеї Верховини, Яремче, Гуцульська забава і не лише
You will see beautiful and charming nature of the Ukrainian Carpathians.
Other inhabited localities, Verkhovyns'kyi district