Halushkivka Cossack Khutor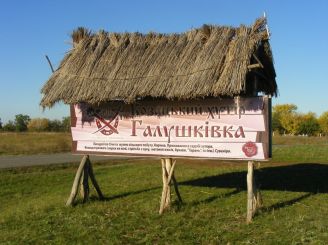 Cossack farm "Galushkovka" - a large-scale ethnographic center, based in the former settlements of Zaporizhzhya Cossacks. It is a very interesting historical village Petrikovka, famous hundreds of relics detailing the fate of the edge between the ages of 17-19. Chief among them is the famous Petrykivsky Painting. More on this fishery can be found in the center of the local history of the village.
Farm "Galushkovka" is formed on the basis of three Cossack estates built in the mid 19th century. It restored the entire life of the Cossacks with detailed interiors and details in the courtyard farm. In one of the estates created an ethnographic museum, consisting in turn of two great exhibitions: Museum of Rural Life Museum and the 19th century Cross. The latter is unique in its kind and the only one in Ukraine. This museum was founded in the early 2000s, its exhibits - Meeting of private collections, as well as hundreds of crosses and jewelry found work during archaeological excavations. Total number of wearable, wall and table crosses is 2000 units collected in 15 regions of Ukraine.
The second manor called "House of Artists" is equipped tourist guest house, where you can stay overnight. On the territory of a third - workshops with the original equipment, trained here Petrikovsky-painted pottery.
Cossack farm keeps the atmosphere of the Cossacks and folk traditions. They can be found by visiting the "Galushkovku" and passed master classes by leading experts.
Tours and excursions
По традиции в Украине, в Масляную неделю люди провожают зиму и обрядами встречают весну.Масленица порадует нас традиционным блюдом - блинами - и не только.