Museum Avtomotovelofotoradio
Vinnitsa attractive for tourists not only the age-old architecture, historic landmarks and landscapes of streets, but also the original museums, one of which is a museum Avtomotovelofotoradio.
His work museum started in 2013, since its doors are open to all lovers of the unique and interesting. Visitors private collection of vintage cars. Interesting models of motorcycles and bicycles. Radios, televisions, and the first lot of other things. The exhibits are fascinating and allow to plunge into the Soviet era.
Only in Vinnitsa Museum of retro cars you can feel like a driver "Victory" or "Volga", to be photographed in uniform. Convenient location of the museum contributes to his visit, because it is located in the city center. Be sure to visit the museum Avtomotovelofotoradio, you will not regret it!
Tours and excursions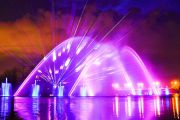 Тихий вечер в Виннице… Это место, где сбываются мечты, приходят новые мысли, и принимаются решения. Вы вдали от суеты, проблем и забот. Приглушенный свет фонарей, уютное кафе на набережной, прогулки до утра, улыбки. И в этот коктейль благополучия и счастья компания «Веселка туризму» желает добавить еще крупицучего-то совершенно необыкновенного. Шоу фонтанов. Мощные потоки воды, устремленные в небо, вода и свет. Вот, окрашенный сиреневым, поток взлетает вверх, и уже через мгновение падает вниз и разлетается на миллион розово-жемчужных капель, которые напоследок вспыхнут совершенно необъяснимым и прекрасным оттенком. А вот и золотые струи, которые становятся на острие багрово-красными, а потом и зелеными. Бывает, что представление превращается в лазерное шоу и на водной стене появляются целые картины под аккомпанемент лучших классических произведений. Здесь же находится самый большой в Европе светомузыкальный фонтан.
12-13 ТРАВНЯ! Дуже видовищний, насичений і цікавий тур до двох перлин центральної України - в Умань та Вінницю! - Екскурсія Вінницею та автомотовелофототелерадіо музей- Неймовірне шоу танцюючих фонтанів із 3D-голограмою- Найкрасивіший парк України - дендропарк "Софіївка"- Цікавий гід та професійний фотограф у супроводі1450 грн з людини, все включено!