Independence Square, Kyiv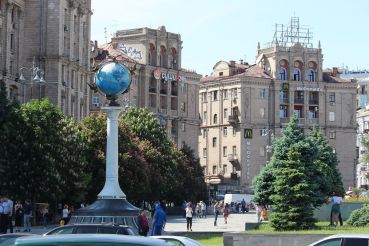 Tourists from around the world who has ever visited the capital of Ukraine - Kyiv certainly remember her walk on the main square - Independence. Small in size, it connects the main streets of the city. You like to be photographed, lunch and a walk, going down the stairs and down, you can visit the underground shopping center.
History Independence Square
In the 19th century, the site of the modern area of Independence, were the ruins of defenses, and even earlier, in the 9th century, there was Goat swamp. The first name of the area was Hreschatynska, she appeared in the 30 years of the 19th century. But with the construction of her City Council, an area called the Duma. Later, the area was called Kalinin and the October Revolution. Changed it only in 1991, when Ukraine gained independence.
Around the square are unique buildings erected in the middle of the last century.
The last reconstruction of the area was conducted in 2001. Then there were monuments in the square, fountains and high column with a figure of a girl, holding a branch of viburnum. This monument of Independence of Ukraine . And the place area, where they found the remains of ancient Lyadsky gates that were part of the fortifications of ancient Kyiv, today a monument depicting the gates, decorated with the figure of the Archangel Michael.
At the Independence Square, in addition to various celebrations, held rallies and protests. Thus, in 2004, Independence Square witnessed the Orange Revolution, and in 2013-2014 the citizens of Ukraine asserting their rights during the Revolution of dignity.
How to get to Independence Square
Using the underground city, you should go to the stations "Khreshchatyk" and "Independence Square".
Nearby attractions
Near Independence Square is a beautiful building of the International Center of Culture and Arts . October Palace was designed V.Beretti in 1838 and appeared before the eyes of the architect in four years. It is a whole architectural ensemble. Also nearby is the main artery of the city - Khreshchatyk Street .
Tours and excursions
A great opportunity to explore the capital of Ukraine, the mighty and glorious Kyiv. Weekend in a modern city with a deep history.