National University "Lviv Polytechnic"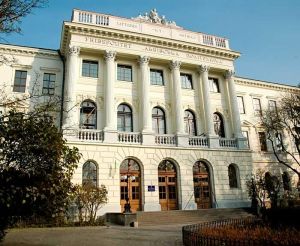 "Lviv Polytechnic" can boast of its historical past. It is, perhaps, the oldest technical university not only in Lviv , but throughout Eastern Europe. His first name - Technical Academy, he received at the base in 1844. It was in this building was significant for the Austro-Hungarian historical event - in 1877, the first telephone call. It was held between himfakultetom and an assembly hall. And three years after the institution was honored with the visit of the Emperor of Austria-Hungary Franz Joseph I. He even ordered the Polish painter 11 paintings that depict the technical progress. You can see them now - they hung out in the main body of the oldest university in the assembly hall. The current name "Lviv Polytechnic" already acquired by the Soviets in 1939, and was awarded university status in 1993 alone. Now this university - an autonomous research institution in which there are 16 institutions.
Tours and excursions
За один день обойти пешком весь Львов и осмотреть все его удивительные места – невозможно. Чтобы вы разглядели большее количество городских достопримечательностей и уникальных особенностей, предлагается интересная экскурсия по этому замечательному украинскому городу с европейскими чертами. Во время автобусной экскурсии вы увидите:Лычаковское кладбище – другая, оптимистическая сторона некрополя, которая удивит, заинтригует и увлечет вас;Метрополия Святого Юра – впечатляющее сооружение, расположенное на высоком Львовском холме;Высокий замок, откуда открываются невероятные, красивейшие картины на город Львов;престижные районы Львова, на которые стоит тоже посмотреть;Господское казино.Источник фото: panoramio.com, автор: Alexx-1977.План тура:Львов
Австро-Угорська імперія свого часу справила величезний вплив на життя Львова в усіх сферах. Цілком логічно, що це значною мірою позначилося і на культурній галузі. Саме тому екскурсія під назвою «Австрійський Львів» користується великим попитом та інтересом в туристів. Австрійська доба залишилася у матеріально-культурній спадщині Львова у вигляді розкішних палаців, Галицького парламенту, своєрідних житлових будинків. Також цей період лишив по собі немало скульптур, монументів та площ.