St Volodymyr Hill Park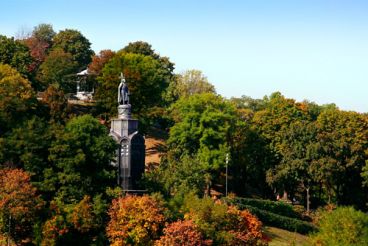 Kiev - a very green city. There are many parks, squares and alleys, which are bright spots on the background of the concrete of the city.
Vladimir Hill Park, although not included in the list of must-see monuments tourists, remains one of the most favorite places of Kiev and guests of the capital.
The park is located in the historic part of the city. Not far away stands the restored St. Michael`s Cathedral . What attracts this place? It is always quiet and calm. Scattered around the green trees that become a shield from the city. The park is very convenient. It found a lot of shops, there is a very beautiful gazebo, which established here in 1898 at the expense of patron Vasily Alexandrovich Kokoreva. From the highest point of the park offers a magnificent view of the Dnieper, Hem, Trukhanovsky island. It can simultaneously walk moms with children, appoint bye love jogging and doing sports fans.
History Vladimir Hill Park has its origins in 1853 with the opening on the site of the monument to Vladimir Svjatoslavovich - Baptist of Russia. Around the same time laid the foundation and the park. In 1900 there was established the first electric funicular.
Today the park is actively reduced in accordance with European requirements. You can reach the park by cable car or walk to the metro station "Postal Square."
Tours and excursions
Во время экскурсии Вы ознакомитесь с основными достопримечательностями столицы Украины, богатой многовековой историей «матери городов русских».
Хотите узнать столицу, город Киев, с разных сторон, увидеть его неизвестные места и достопримечательности, посетить все самое интересное за короткое время, тогда пешеходные экскурсии по Киеву как раз для вас.