Winter wonders Dikanki: journey home sorcerers
11290
Enchanted region, full of legends and superstitions, where Christmas - a time of miracles. In this marvelous village is still proud of the church, supposedly painted Vakula, and show them forged chest ... 
If you want to understand how anciently celebrated Christmas in Ukraine, go to Dikan'ka that in Poltava. After all, it is considered the edge of miracles, where you can still meet a noble enchantment. Of course, now the village is not like the Ukrainian farm. But we have only casually mentioned, they say, "now is not the Dykanka!" As she immediately reveal to you my treacherous. Locals call it an enchanted place: it is easy to get off the road and did not find a way back, and with the weather and at all going wrong - the sun shines when all the rain!   
From the history of the village. Real glory brought Dikan'ka mystical story by Nikolai Gogol "The Night Before Christmas." Therefore, while walking you do not just come across the word "Solokha." 
  X / F "Evenings on a Farm Near Dikanka", in the role of Solokha Hityaeva Lyudmila  
Do not be surprised: colorful witch is a favorite of the locals that is named in her honor and shop, and stop, and the neighborhood, and even gas storage. There is a monument Dikan'ka and legendary characters - beauty Oksana and Vakula. However, a couple of years ago Oksana sculpture mysteriously disappeared - it has never been found.   
First of all go to the Trinity Church that near the pond, at the intersection of Pushkin and Belinsky. 
According to legend, painted it and Vakula. If you ask a local, they will point you in the very same wall, where once he "painted the devil in hell, this ugly that all spat when passing by."   
In the museum of local lore preserved old chest, which, according to legend, forged Vakula for his beloved Oksana. 
St. Nicholas Church , which you can find at Poltava Shlyakhov associated with the birth of Nikolai Gogol. It is here that the writer's mother prayed for the health of the baby, who was wearing under her heart. To overcome this woman walking 30 kilometers, reaching from a nearby farm. After all, before the temple was the miraculous icon of St. Nicholas. Today the shrine in the church there, but iconostasis of bog oak, bell tower and the tomb of the family of Count Kochubey. 
And nearby you will find ready made ​​snow old mill and giant oaks , which for 800 years. 
Having been in Dikan'ka, you are sure to pay attention to the Arc de Triomphe , which is considered a business card settlement. It was built back in 1820 in honor of Emperor Alexander I. 
Keep warm during the winter travel, and along with the national cuisine can be enjoyed in the "near Dikanka" , in the village of Prony near Dikanka. You are waiting for Ukrainian neat houses, sheltered snow, Gogol's heroes, met with bread and salt and dumplings from Solokha.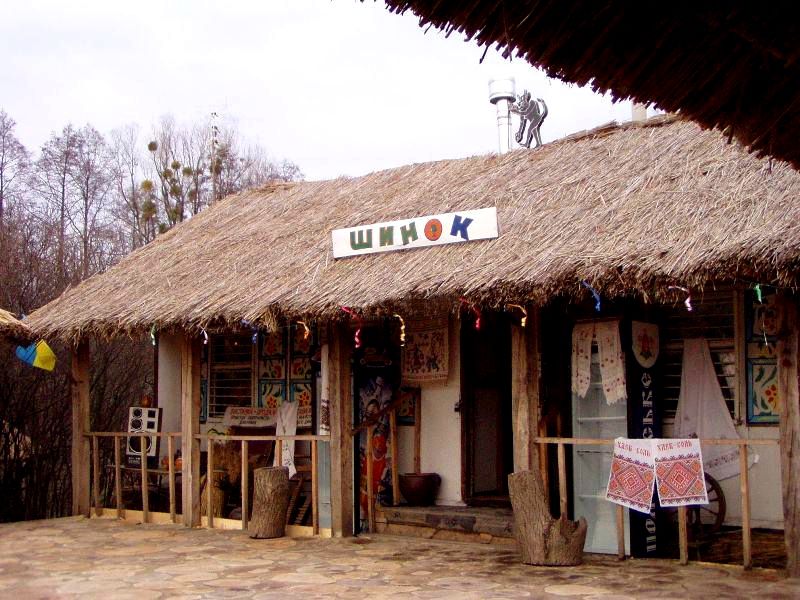 Cafe "Chinook", p. Prony Dikansky borough  Travel the winter Dikan'ka best private transport. To get to the village of convenient Poltava - it is about 30 kilometers from the regional center. By the way, operates regular bus service: transport runs every half hour. Organize and group tours, during which guests are offered also see Poltava and its surroundings. 
If you liked the article, tell your friends :)