Sofiyivka Park in Uman: place created with love
390025
If you are tired of a noisy city. Gray walls of buildings bring black melancholy. And the antlers of public transport cause claustrophobia. It means that it is time for you to come here. In the charming park created for love...
Polish Marquise of Angels
...the love of one of the richest Polish magnates Stanislav Pototsky to magnificent Sofia.
Novels were written about this woman and they can overshadow the adventures of Angelica. "Beautiful Greek" who according to one version originates from the ancient Greek family (according to the other, she was the daughter of a livestock trader), during her life she was a courtesan, conspirator, wife and lover of several nobles, including Gregory Potemkin. The smart, the beauty, and according to the rumors, she did not shy away from political and spy games.
But her main merit is different.
It was Sophia, who fascinated by the Arkadia park, situated not far from Neborov, subtly gave a hint to her lover Pototsky that it would be nice to have something like that in his Uman's possessions. This is how the history of Sofiyivka Park began.
Then there were a lot of good and bad in the life of this couple, but they performed their part in history.
In 1796, in the Kamianka disctrict, engineer Ludwig Metzel started the construction of a park devoted to Sophia Glyavone (she will become Pototska only in April 1798).
There were bombs and bangs of workers' picks, that were making cuts in the natural rocks to create the future groves of Diana and Calypso, the water system was organized, ponds were plunged, trees and shrubs were planted. In general, more than 800 peasants worked there. And the cost of construction amounted to 2 000 250 rubles in silver. In May 1802, Sofia had been already walking through the alleys of her "birthday gift". Park was named after her.
There was another important person that was the owner of Sofiyivka, in addition to Pototska. In 1832, after the uprising in Poland and the confiscation of all the estates of Pototsky, Emperor Nicholas I gave the park to his wife – Olexandra Feodorivna.
Nowadays in the National Dendrology Park of Ukraine "Sofiyivka", which is at the same time a research institute of the National Academy of Sciences of Ukraine, you can get acquainted with 3323 species, forms, varieties of local and exotic trees and bushes. If you have enough time, of course.
Nowadays Sofiyivka is provided with excellent care. Here you will see a miracle of garden art that has been pleasing to the eye for several generations. For example, this green labyrinth with the mysterious title "Arboretum named after V.V. Pashkevych."
The labyrinth is located in the northern part and is named in honor of its creator, a well-known scientist-planter. Arboretum is an English park. Right here the large number of exotic plants and vivid flowers is concentrated and they emphase the juiciness of greens and the thoughtfulness of the composition.
The arboretum was created in the form of a triangle, in the center of it there is a small but pretty fountain with a goblet. Visitors like to lie on the lawns in this part of the park and arrange picnics.
Journey to Antiquity
In the vast park area – 179,2 hectares – in addition to vegetation, there are still many interesting things, created by the hands of men in co-authorship with the majestic nature:
Flora pavilion.
Fountain "Snake."
Assembly area.
Tarpeyska rock.
Venetian bridge.
Grotto of fear and doubt.
Scylly grotto
Great waterfall.
Statues of ancient Roman and Greek gods and heroes.
Cyclops valley.
Underground river.
Graceful swans and funny drakes in the pond.
And there are more than a hundred of such "gems." You seem to be immersed in antiquity. With head. And you do not want to get out of there.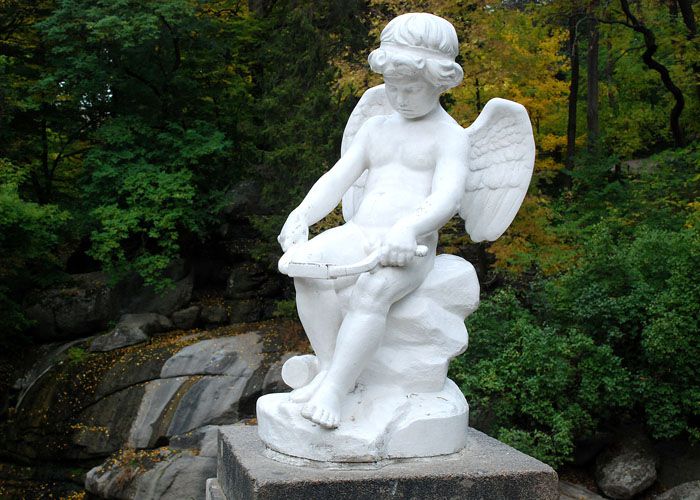 You cannot see everything in one day. But even in a day it is possible to be overflown with the impressions and to breathe the air of Sofiyivka to your fullest.
Opening hours and price for entrance to the Sofiyivka Park
The park is officially open for visits from April 12 to November 15 from 9 to 18. If you want, you can come even sooner, or later, and there are rumors, that after 18 you can come in for free. I have not personally checked.
Prices relevant for the excursion season of 2017
Entrance fee:
for adults – 40 UAH;
for children – 25 UAH.
Prices for excursion service:
for adults – 30 UAH;
for children – 20 UAH.
Minimal excursion cost:
for adults (up to 12 people) – 360 UAH;
for children (up to 12 people) – 240 UAH.
Excursions in foreign languages:
for adults – 55 UAH;
for children – 40 UAH;
accordingly, the minimal price for a group (up to 12 people) is 660 UAH and 480 UAH.
In Sofiyivka, there are many other attractions, especially water rides on the beautiful lake. You have to pay for them separately. You can ride a catamaran (40 UAH for half an hour), a boat (100 UAH), rent a boat or arrange an elongated stroll on the gondola. Particularly popular is the boat ride on the underground river Ahern (40 UAH). For a few minutes you can immerse yourself in an obscure darkness, lighted only partially – where the top of wells in the dungeon is pierced. For the genuine experience carriers ask visitors not to turn on flashlights on their mobile phones.
In addition to water rides, you can arrange a stroll on a carriage (150 UAH). Since not long ago there is a rope park. The cost of the attraction: the children's route – 40 UAH, family route – 70 UAH.
Some nuances about the visit to Sofiyivka
If it is possible, try to get to the park on a weekday, because on weekends or holidays, the number of visitors increases, to put it mildly. And to enjoy the park, while getting through the crowds is not the best option.
The perfect time for a visit – either in the spring, during blooming, or in the golden autumn, when the trees are dressed in colors. It is also not worth visiting dring the pilgrimage of the Hasidim to the tomb of Tsadik Nakhman, who visit Uman to celebrate Rosh Hashanah. The Jewish New Year has no fixed date and usually is at the end of September or October.
There are cafes in the park and even two hotels are located here. Price varies from 200 to 500 UAH per day. Sofiyivsky Hotel is located directly at the entrance, and it offers accommodation at affordable prices. A room for one person – for 200 UAH, for two – from 350 UAH, a suite for two and a family – 550 UAH. But, mostly on the weekends there are no vacancies. The administrator warns visitors that they need to book a room in advance (about two or three weeks before), or better if you travel by yourself, arrive on a weekday when there are not so many tourists. Then you will be able to fully enjoy the beauty of Sofiyivka. Just imagine you alone with the Sofiyivka at night. This is magical!
There are variants of hotels and in Uman itself – away from the park, but the prices are more pleasant.
But I definitely do not advise you to eat at a local bus station. After french fries, offered in one of the local "cafés", any metropolitan fast food will seem like a culinary masterpiece.
Do not risk, it's better to take something to eat from home.
Moreover, if you have no desire or opportunity to stay here at night, one day is enough to get acquainted with the park for the first time. The bus route from Kyiv to Uman takes about three hours or more (depending on the route of follow-up), the distance is more than 200 km. The cost of tickets for various buses ranges from 120-170 UAH. The buses go from the central bus station (Demiyivska metro station) and from the main railway station (down street from MacDonalds).
The last buses ride back at about 7 p.m., rumors have it there is another at about 8 p.m. Do not forget about transport that passes through Uman on the road to Kyiv from the southern regions. There is no confidence in their availability, but these buses can be quite a rescue option as a backup plan. If you are driving the car on the weekend, come there sooner, because it will be difficult to find the place for a car after 9.
But there is one thing I am sure of. A trip to the park, created for the sake of love, will bring you the most pleasant memories. You will definitely want to visit this place again.
In addition to Sofiyivka, there are many other parks and reserves in Ukraine that should definitely be visited in the spring. You will definitely like:
The photographs of Yuriy Perebaev and Tetiana Donenko are used in the article.
Tours and excursions in Sofiyivka
If you liked the article, tell your friends :)