The city of Poltava is a cradle of Ukrainian history, where in former times the brave Cossacks fought, where the folk art was born. Ukrainian writers, such as Grigory Skovoroda, Ivan Kotlyarevs'kyi, Nikolai Gogol, and others have created their famous works here.
If you have decided to visit the city, you are well advised to start your acquaintance with Poltava in Korpusnyi Sad Park, on Zhovtneva Street. It is located in the centre of the city and has the shape of a circle with diameter of 350 meters. Korpusnyi Sad bears its name due to the fact administrative buildings have been built around it. Stroll along Zhovtneva Street and you will see the City Hall, the Ivan Kotlyarevs'kyi Cinema, the Council of Trade Unions, Poltava Art School, Surface-to-Air Missile College, and others. The locals call the park Kruhla Ploshcha (meaning Round Square), where, according to historians, a decisive fighting in the Battle of Poltava has taken place. It is a place where the Russian army of Tsar Peter I has defeated combined forces of Swedish and Ukrainian Cossacks under the leadership of Hetman Ivan Mazepa. The Glory Obelisk was erected in the centre of Korpusnyi Sad in honour of the 100th anniversary of the victory in this battle. You can get to Kruhla Ploshcha by trolley buses №1, 4, 9.12, and 15, getting off at the Korpusnyi Sad Stop.
The Local History Museum, located not far from the park on Konstytutsii Street, can offer you a brief acquaintance with the history of Poltava region. You can get there walking down Zhovtneva Street. Passing Petrovs'kyi Park, turn to the right, where the second building is the Local History Museum. However, you can easily recognize it as the building was constructed in the style of Modern with elements of folk Ukrainian architecture. Such buildings were extremely rare in the late 19th century, when Poltava used to be the territory of the Russian Empire. Take an excursion in the Local History Museum and visit two floors devoted to the history of the city. In addition, in the museum there are 300 exhibits, including specimens of Egyptian, Oriental and ancient cultures.
Going down Zhovtneva Street, a whole architectural complex can be noted by you on Soborna Square. First of all, it is the Ivan Kotlyarevs'kyi Museum – a house of the famous Ukrainian writer. He was the first, who started writing in Ukrainian language. He is an author of Eneyida – a parody of Virgil's epic poem Aeneid. Also, on Soborna Square you can see Assumption Cathedral – the first stone temple on the territory of Poltava region. The cathedral's bells have been cast from guns left by the Tatars. Ivanova Mount rises up near Soborna Square. It is a much visited place, both by locals and guests of the city. From the white gazebo on its top you can expect an amazing view of the lower town and the Vorskla river valley. On a sunny day you will notice Exaltation of the Holy Cross Monastery with its seven cupolas shining on one of the valley's hills. Fortifications used to be located on Ivanova Mount, which are planned to be rebuilt. In addition, there is a unique monument, which simply shouldn't be missed by you – the Poltava Halushka Monument (the monument to a dumpling) – is considered to be the symbol of the city. The monument was erected in 2006 to the birthday of Nikolai Gogol, who proclaimed it in his stories. Annually, in the first decade of December, citizens of Poltava celebrate the Day of Ukrainian Halushka.
If you plan to stay in Poltava for longer, don't hesitate to visit its surroundings – Yakivtsi and Dykan'ka village. To Yakivtsi you can get by bus № 33 of the route Rozsoshentsi – Yakivtsi or № 23/24 of the route Dosvidna Station – Karl Libkneht Street. Here, on Shveds'ka Mohyla Street, you'll see several monuments dedicated to the Battle of Poltava. Visit the History Museum with a symbolical name – "the Battle of Poltava" (Poltavs'ka Bytva in Ukrainian). It is located on the territory of reserve of the same name. Here you can see virgin landscapes, fragments of fortifications dating back to the times of Cossack and Swedish battles. Also on this street there are many monuments erected in commemoration of fallen soldiers. One of them, dedicated to the Swedish army, was erected and financed by the Russians in the early 20th century. In Yakivtsi, Orthodox Sampson Stranopryimets Church was laid by Peter I in 1852 in honour of the victory of Russian troops over the Swedes.
The village of Dykan'ka has achieved renown due to collection of short stories Evenings on a Farm Near Dikanka by Nikolai Gogol. The New Year film based on his stories has been filmed in Ukraine. Visiting Dykan'ka, you will find yourself among the beautiful nature of Ukrainian lands. It will be a real pleasure for you to stroll along lilac lane admiring ancient oaks of Cossack Kochubey – a friend of Ukrainian Hetman Ivan Mazepa. These old trees are about 300 years old and some of them reach a height of twenty meters. Near Dykan'ka there is the village of Proni, where you can have a rest and taste Ukrainian dishes cooked by the characters of Gogol's stories in a real Ukrainian tavern – shynok. You can get to Dykan'ka from the bus station of Poltava by a public bus or take a taxi.
Poltava is also one of the most famous cities in Ukraine because of the annual Sorochyns'k Fair, arranged in August. It is well known thanks to Nikolai Gogol too. The village of Velyki Sorochyntsi attracts masters of needlework and various artisans in late summer. Various things are sold there, such as goods of folk and industrial production, as well as dishes prepared according to old recipes that have been passing in each family from father to son. In addition, interesting contests are arranged during the fair; sketches based on stories of Nikolai Gogol are played there as well. Traditionally, sellers of Sorochyns'k Fair are dressed in Ukrainian national costumes. Since the fair is arranged in August, the best time to explore this Ukrainian area is the last month of summer. You can get to Velyki Sorochyntsi from Myrhorod by bus. And from Poltava to Myrhorod you should go by commuter train or by bus.
Poltava is one of Ukrainian cities, where modern views and ancient traditions are in a harmonious combination. Visit this charming land of beautiful nature and unique architecture. Take a walk on the land, where the brave Cossacks, the Swedish and Russian soldiers fought, the land of great writers, commanders and kings.
Tours and excursions Poltava
Let's go by Gogol places: from Kyiv to Poltava, then from Dykanka to Gogolevo and from Velyky Sorochyntsy to Myrhorod. That's a great journey to old ukrainian cities and small misterious villages.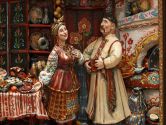 Дводенний екскурсійний тур на Полтавщину
Other regional centre