Henichesk located on the Azov Sea, where emerging Arabat Spit . Through the thin duct constructed bridge that connects the braid and the actual city. Henichesk is a resort town, so at the height of the summer season is always crowded.
Resort area Genichesk gained popularity due to the affordability and bad infrastructure. These often come with children, because the Azov Sea is quite shallow and the water warms up quickly. The composition of sea water and unique geothermal, mud and brine lake Siwash have healing effect in diseases of the musculoskeletal, nervous and endocrine systems, skin and blood vessels.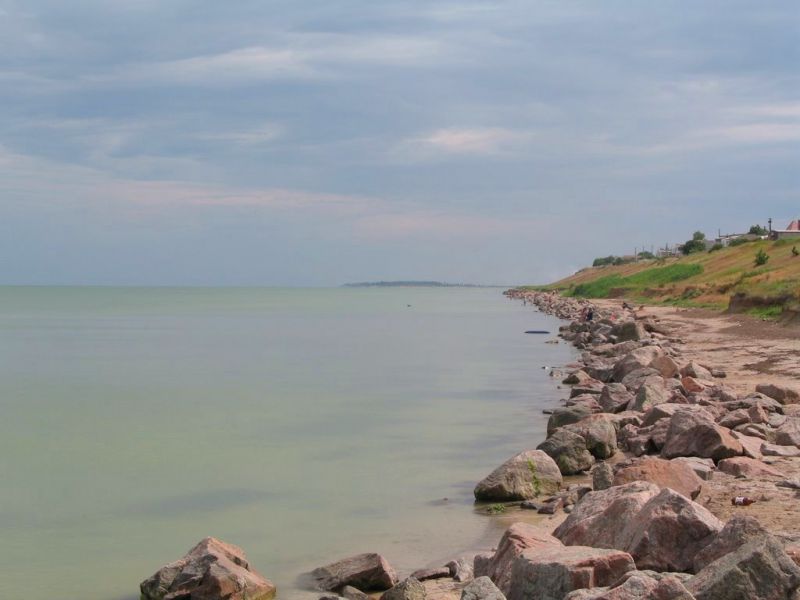 Photo Source: panoramio.com, author: Kirill-1985.
History Genicheska
The first mention of Genichesk date back to 1474 year. In the Gulf of Saline there was a settlement. The name of the city and the bay comes from the Turkic "dzheniche", which means "thin." There is historical information that a full life in the Gulf has existed in the 1st century BC.
In the modern city were often fighting and war different rulers and states. According to the military card in 1772, the troops of Prince Vladimir Dolgorukov got on the peninsula and surrounded by modern Feodosiya , thereby freeing the land from the Turkish army. In the same year Henichesk already was ruled by the Russian Empire. Since then, the city has seen a lot, it took part in various wars until the 20th century. Since 1903 is Henichesk city.
Administrative information
Henichesk is a city of regional importance and belongs to the Kherson region. It is the administrative center Genichesk district. It is home to over 25,000 people, most of whom are Ukrainian, Russian and Crimean Tatars.
City Postal Code: 75500.
Phone code: 380 5534.
Helpdesk city: +38 (05534) 2-22-22 or 109.
Interesting facts about Henichesk
Until 1562 the settlement called Saline.
By 1784 - Neontihos.
By 1837 - Henich.
Since 1903 there arnautka grown (wheat variety), which was exported to Europe.
Arabatskaya arrow appeared on maps only in 1650.
In April 1971 opened an asteroid was named after the city.
What to visit in Genichesk
Arabat Spit - the largest spit of sand in the whole of Ukraine. It was formed through namyvannya large amount of sand about 850 years ago. Its length is 115 km. There are many resorts.
Byryuchyy island . Today its territory is located Azov-Sivash Park . Previously, it was really an island, but now it is connected to the mainland by a small isthmus. They say that it poured on the orders of Peter I. To visit the park must have permission of his administration.
Nativity of the Blessed Virgin Mary , built in 1905.
Genicheska History Museum has interesting exhibits and materials which are of great historical value. It presents many unique exhibits.
Transport Genicheska
By Genichesk can reach by train, car or bus and end point can be Novooleksiyivka village.
Henichesk has direct rail connections from Kyiv , Dnipropetrovsk , Zaporizhzhya . You can use the train stations Zaporizhia, Melitopol and Novooleksiyivka.
Train Inhulets - Henichesk passes through the large station Krivoy Rog , Nikopol , Manganese and more - Zaporozhye, Novooleksiyivka. In the summer a day or on certain dates go extra trains.Commuter trains run from Kiev, Dnepropetrovsk, Krivoy Rog.
Direct bus service has Henichesk of Kharkiv , Kherson , Vinnitsa , Zaporozhye, Novooleksiyivka. A bus station buses go other routes. Many large cities organized trips commercial passenger carriers.
By car drive from Kherson R47 and on the highway from Melitopol on the highway E105.
Photo Source: panoramio.com, author: Lehanset.
Getting to Genicheska of Novooleksiyivka distance is 17 km. From the railway station you can go by train, which runs several times a day. Here, in the square, stopping buses on Genichesk, service buses and private boarding a taxi.
Transport in Genichesk: in Genichesk is well developed bus system and taxis. Arabatskaya arrow from the bus station walk urban buses. By destinations can also be reached using the shuttle.
Spa resorts in Genichesk
Rest in Genichesk inextricably linked to the Arabat Spit. Accommodation is offered in recreation centers, hotels, camping and the private sector.
In the recreation Genichesk, resorts, camping along the beach. Well-developed private sector, which offers accommodation in mini-hotels, homes, apartments. Cost of living comfortableness and depends on the state of housing. Accommodation in suits families with children. Yard area often equipped playgrounds. The city has a beautiful park, a large collective farm market with berry-fruit variety and various fish, infrastructure, located near by medical institutions.
Pensions and recreation facilities are also located in the vicinity along Genichesk and Arabat Spit, which is a village Henhorka, Schastlivtsevo, Strilkove. Vacationers provided accommodation in multi buildings, wooden cottages, summer houses in rooms with different levels of comfort. The property class "luxury" in the cottages may have their own veranda and sea views. Spa facilities provide nutrition for comfort tourists are on site infrastructure. Some hostels provide rent tents in their territory at the beach.
Fans of "wild" holiday can install tents in the camping or at the beach empty of Arabat Spit.
Note: going on vacation in Genichesk necessary to remedy mosquitoes guestrooms at quiet weather sufficiently large.
Beaches Genicheska
The space Genichesk town beach can get out of Quay Street, down the wide concrete staircase with multiple kiosks. Sand is delivered annually at the beginning of the season, it is soft with a slight turning rakushok. The beach is equipped with canopies are various rides and entertainment. It is also called "child" as shore shallow, two-meter depth starts a hundred meters and virtually no waves. The bottom is flat, sandy, without plants. In the season of many people on the beach.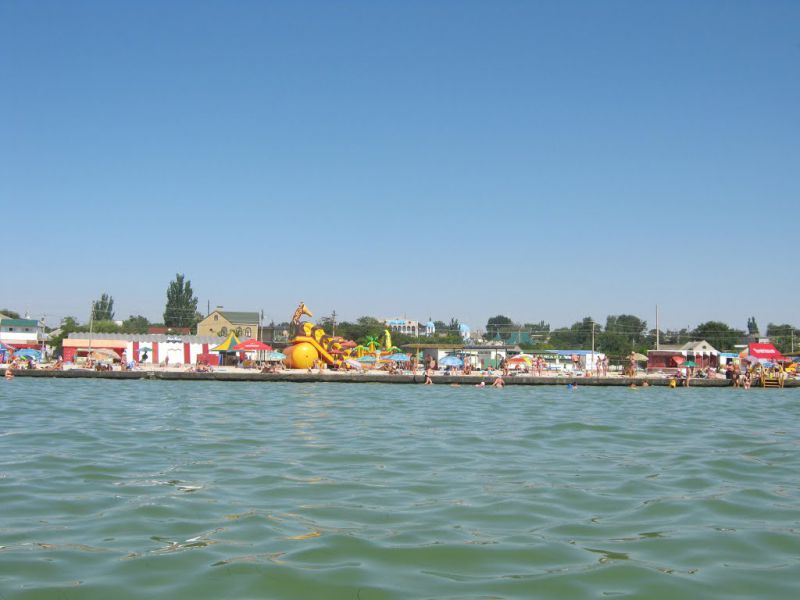 Photo Source: panoramio.com, author: i5124.
Vacationers who prefer less busy beaches, can walk on the wild beach. It is located in other parts of the coastline of the city. The beach is narrow and with a bit of sand, unequipped, the descent is steep, the water there are large boulders. Some pensions ennobled their beach area.
Many tourists prefer to ride on the beach Arabat Spit, which is bordered on one side Azov Sea and Sivash Bay on the other. In spit beach is quite flat, shallow, composed of sand and small rakushok.
When to visit city
The favorable geographical location and weather fast and good warm shallow sea of ​​Azov in Genichesk, so you can attend from early May to late autumn. On hot days, the water is heated to 30 ° C.
Tours and excursions Heniches'k
Впусти вітер в голову – Херсонщина вражаєХерсонщина не просто сонце, кавуни й томатиТур Херсонщиною – мікс подорожейМоря, затоки, острови, сафарі, рожевий Сиваш, вино
Бажаєте гарно відпочити, побачити нові місця, а їхати за кордон не маєте можливості? Команда нашого тур – центру покаже Вам, як можна відвідати сафарі, полежати у Мертвому морі, побувати в Австралії і при цьому…не залишати межі рідної країни!Почнемо із «Африки в мініатюрі» - біосферного заповіднику «Асканія - Нова». У ньому зібрана унікальна колекція диких тварин, привезених з різних зоогеографічних областей земної кулі. Серед них є антилопи, зебри, олені, бізони, зубри, коні Пржевальського, фазани, страуси, фламінго, лебеді, папуги. Ви зможете не лише милуватися рідкісними представниками флори та фауни, а й прийняти участь у ретро – фото сафарі.Вважаєте, що побувати на березі Австралійського озера Хільєр та відпочити у водах Мертвого моря малоймовірно? Ми відвідаємо місце, яке за своєю красою і лікувальними властивостями їх перевершує! Води Рожевого озера рожевого кольору, а концентрація солі у них сягає 35%. Окрім небаченої краси українського Мертвого моря, на нас чекає цілюща сила термального джерела. За новими емоціями не обов'язково вирушати у далекі краї. Приєднуйтесь і Ви самі в цьому переконаєтесь.