Street Korzo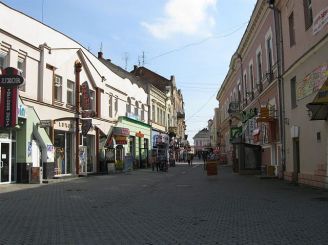 If you happen to be in Uzhgorod , be sure to stroll around the most famous street of the city - Korzo. She translates from Italian as "street for walking", the name is fully consistent with its purpose. This is a popular place for Uzhgorod and guests.
Street has retained its old-world charm and charm. Narrow paved road on both sides surrounded by two-story houses, decorated with stucco. Walking this street, you find yourself in another world.
Earlier this street was the center of social life in Uzhgorod. It is here that the city opened the first pharmacy. Merchants from all over Europe offering their wares here, and the local ladies (during shopping trips) shared the latest news and gossip.
Today the street is also a shopping heart of Uzhgorod. There are a lot of small shops and cafes. Street represents and architectural interest. For example, one of the houses was built in the late 19th century. It is called here "White Sail".
Street Korzo - the most popular place to meet. There are dating, meet friends and business partners. This street will be your favorite place in Uzhgorod.
Tours and excursions
Якщо ви бажаєте весело провести час, дізнатися та побачити багато нового, а також оздоровитися – запрошуємо вас відвідати тур по мальовничій землі Закарпаття. Під час туру на вас чекає неймовірна атмосфера пригод: Доторкнутися до давньої історії міста можна під час екскурсії в замок Сент-Міклош та замок в місті Ужгород. Оздоровлення та незабутній відпочинок в басейнах з термальною водою, що в Косино та в чанах, що в Лушморах. Температури води сягає +41°С. Побачити як народжується вино і спробувати його різні сорти – це цікава і смачна дегустація відомих вин у Береговому. Косино зустріне найбільшими в Україні фонтанами-джакузі з «пивом», «вином», «кавою». Також ви побачите фонтан-ілюзію, що має висоту більш як 15 м. Джерело фото: veyvlet.livejournal.com. План туру:
Львів – сан. Карпати – Мукачево – Берегово – Середнє – Ужгород – Пилипець – Синевир – Львів