Kharkiv experienced huge waterslide
1973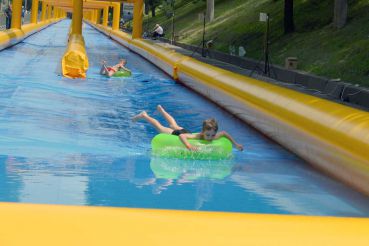 Water Hill - the so-called huge attraction that townspeople had the opportunity to test the 18 and 19 June Klochkovskaya descent.
It should be noted that these rides either in Ukraine or the CIS was not.
So Kharkiv was the first where this innovation decide to install.
300-meter slide down inflatable vacationers in circles, each other occasionally pushing.
Photo Source: sq.com.ua.
Along the attraction were volunteers also helped, if necessary.
Photo Source: sq.com.ua.
Attraction can descend in any clothes. The main thing is to avoid piercing and cutting items.
For kids have established a special little bitter.
Photo Source: sq.com.ua.
Only one day of the attraction came more than 5 thousand people. Among them - 600 children-beneficiaries. Guests made about 20 000 runs.
Photo Source: sq.com.ua.
Ticket attraction guarding UAH 50, NL - Two hundred.
Given the great popularity of the attraction, city officials already agree with the organizers of the re-establishment of Water Hill. This should be expected in three to four weeks.
Also, you may be wondering:
If you liked the news, tell your friends :)